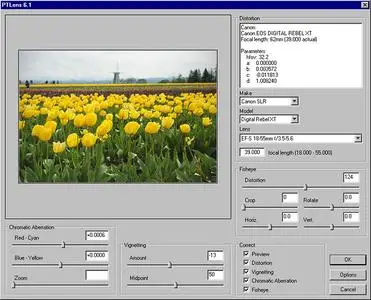 rar | no pass | 0.15 MB
System Requirements. PTLens runs under Windows 2000 or Windows XP with a monitor resolution of at least 1024x768 (DPI 96). The plug-in version works with Photoshop version 6 and above and Photoshop Elements. Although PTLens is compatible with Paint Shop Pro, camera make, model, lens, and focal length must be manually specified as Paint Shop Pro does not furnish EXIF information to plug-ins.
Language Support. The following languages are supported: Bulgarian, Croatian, Czech, Danish, Dutch, English, Finnish, French, German, Hungarian, Italian, Japanese, Norwegian, Polish, Portuguese, Romanian, Russian, Slovenian, Spanish (Spain), and Swedish. Some languages may not display properly under Windows 2000. If your language is not listed then click here.
Camera and Lens Support. Calibrations are based on images submitted by users. Exact requirements are described in the PTLens Manual.