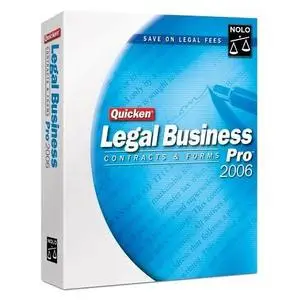 Quicken Legal Business Pro 2006
Software |
www.nolo.com
| Rapidshare | 14.61 MB
You don't need an attorney to start and run a business - most of the legal work involved simply requires reliable information and the right documents. With Quicken Legal Business Pro 2006, you'll get everything you need to get the job done.
Quicken Legal Business Pro brings these five Nolo bestsellers together in one easy-to-use software package:
-Legal Guide for Starting & Running a Small Business
-Tax Savvy for Small Business
-Everyday Employment Law: The Basics
-Negotiate the Best Lease for Your Business
-Marketing Without Advertising
With over 140 legal forms, you'll have access to the documents you need, when you need them. You can also take notes, create bookmarks and read real-world examples of situations you're likely to face.
Quicken Legal Business Pro helps you:
Plan for Success
Select the best structure for your business, draft business contracts, get required documents and minimize the chances of legal disputes.
Get the Forms You Need
Choose from over 140 essential documents, contracts, letters, worksheets and more. Many of them are interactive – just take a step-by-step interview, print the results and you're done!
Become Tax Savvy
Identify deductions allowed by the IRS, write off long-term business assets and minimize the chance of an audit.
Build Your Team
Hire workers, develop sensible personnel polices, minimize the chance of employee lawsuits and legally terminate workers when necessary.
Negotiate a Lease
Figure out how much space you need, choose a good location, negotiate the best possible terms, bargain for lower security deposits, share costs for repairs and expansion, and more!
Get the Word Out
Implement efficient and inexpensive marketing plans, price products for success, market online, and attract customers and clients.
Free of password.
http://rapidshare.de/files/24368725/quilegbuspro2006.rar
You are welcome to download From OxyShare:
http://www.oxyshare.com/get/75...2991/quilegbuspro2006.rar.html
Please do not place my Rapidshare links on OxyShare.
I collect Rapidshare's premium-points,
but OxyShare links take ca 80% of my premium-points.
Thank you for understanding.