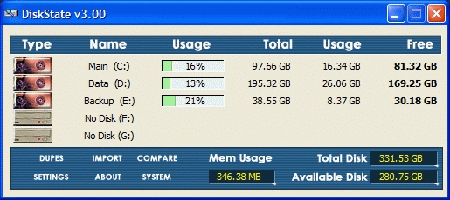 This program reports the current state of your disks: Total MegaBytes, GigaBytes, the amount of space used and free, and the useable swap space (or memory usage). Furthermore, one can browse through the folder structure with an intuitive pie chart showing relative folder space used.
DiskState can also eliminate space wasted after program crashes or by temporary files no longer needed.
The Duplicate Finder of DiskState uses a powerful 128-bit MD5 technology to track down redundant files. CRC32 is also available. Even if the file names are different, DiskState identifies duplicates by content and displays duplicates in a comprehensive list.
Got a lot of MP3s, image files and other multimedia duplicates? Then DiskState can help you with an easy-to-use wizard to remove those hogging duplicate multimedia files!
Next, DiskState can capture the state of all files recursively in a folder tree. This enables the user to compare old states with newly captured ones. Ideally for detecting changes in files, deleted and added files in a given folder structure.
Reports can be generated to find the oldest files, archive files etc. on a disk volume. Find files edited within a specified time period, files with given attributes like compressed, read-only, hidden and so forth. The whole report generator is fully user-customizable. Adding new reports is simple.
DiskState provides a deletion engine for scheduling cleanups regularly.
A notification can be given, either by a popup window or email, when a volume has reached its level of capacity.
File deletions are SAFE. DiskState can easily restore back the state of cleaned file entries.
A cool tool to extract boot blocks in a multi-boot environment. This is useful if e.g. the Windows 2003 Server installer has erased your Linux boot block. Add Linux, BeOS, OS/2 and over 200 known boot blocks to your Windows NT/2000/XP boot menu in a breeze.
DiskState has various cleanup tools. One example is the "Cover Your Tracks" to remove traces you leave after surfing the web. You can remove traces of your browsing from Internet Explorer, Firefox, Netscape and Opera web browsers. Valuable information can be left intact for malicious users to see and abuse. DiskState can remove this information for you.
All in all, this is a small but powerful tool to analyze and tidy your computer in a nice safe way.
What is new in v3.20?
Added new rules to DiskClean: Adobe Acrobat search index files, app data log files, app data local log files, Apple QuickTime downloads, Macromedia Flash Player cache, Firefox download log, Opera download log, Sun Java Cache, Firefox cache and Opera cache.
Added new base select: Specific folders can now be given points. Files in folders with lowest points are less important than others and thus elected for selection.
Improved DiskClean engine: Added expansion of system environment variables and OS specific folder names in regular expressions. Example of a local OS specific folder is "%!Local AppData%\\MyCompany". Example of an environment variable expansion is "%APPDATA%\\MyCompany".
New context submenu that offers all depths of selected path to folder ignore list in duplicate files result window.
Usability: If all duplicates are selected, unselect files for entire group and show file list in a window afterwards.
Bug fixes: Mouse scroll wheel did not respond correctly in result lists, problems related to "close other open DiskState windows" should be gone now, context menu items for already deleted files are now disabled, stability with millions of files for duplicate scans.
Platform support update: Windows XP X64, Windows 2003 Server X64 and Windows Vista.
New command line option: /spaceview:D opens up disk analysis window on drive D etc.
Cosmetic: 'Total Usage Free' to 'Total Used Free' in main window.
Cosmetic: Compare files and folders result window is now resizable.
Download:
http://rapidshare.de/files/22849728/RDS3.20Full.zip.html
Password: VDOWN@RG