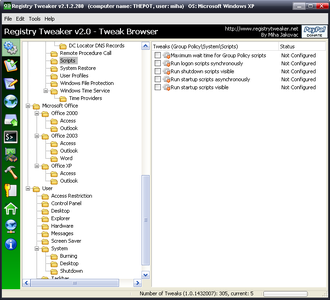 Registry Tweaker v2.1.2.280 Thinstalled | 1.5 MB
Registry Tweaker is a tool, for applying registry tweaks on Windows platforms. It supports Windows 2000/XP/2003. The program is very customizable, you can add, edit tweak database, create profiles and export them to *.reg files. Everything is done just with a few clicks.
Registry Tweaker supports basic types: # REG_DWORD, REG_SZ, REG_MULTI_SZ, REG_EXP_SZ, REG_BINARY
If you like to track things down, Tweak Tracker is included. When you apply tweak, manually or with profile, changes are written to tracker, so you can check everything you have applied. Of course, restore to old or original value is possible.