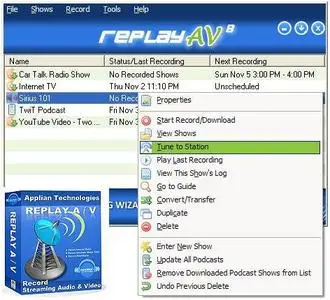 Replay AV and Replay Radio v7.31 | 18 Mb
It's Replay Radio on Steroids! Capture and schedule recordings for both Streaming Audio and Video. Replay A/V does everything Replay Radio does, plus adds Stream Capture Technology, which lets you:
Record, Schedule and Convert
All Kinds of Streaming Video and Audio
– Capture Streaming Video.
– Save multiple streams at the same time.
– Record without using the Sound Card.
– Download audio with perfect sound reproduction at the smallest possible file size.
Record, Schedule and Convert All Kinds of Streaming Video and Audio
> Capture Online Video Clips
> Schedule and Record Radio Shows and Stations
> Find Radio, TV & Podcasts with the Integrated Media Guide
> Convert to 36 Popular Output formats
> Record Internet TV Stations
> Turn Audiobooks into MP3 Files
> Record XM™ and Sirius™ Online feeds
> Download and Convert Podcasts and Video Blogs
> Record from Webcams or audio devices attached to your PC
> Record, Convert and Copy to iPod automatically
> Easy to use