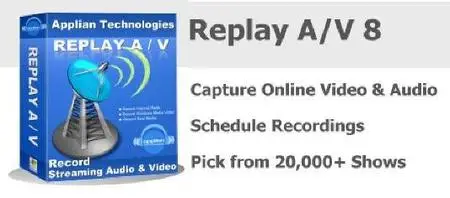 Replay A/V is the simplest and most powerful way to capture Video and Audio from the Web on your PC. Replay A/V does it all. Capture video clips and music. Record live, or schedule recordings to happen later. Automatically convert to 36 different video and audio formats, including iPod Video, iPod Audio and iPod Audiobook. Use the integrated Media Guide to pick radio and TV shows and stations. And best of all, Replay A/V is really easy to use. Capture All the Best Media Replay A/V makes it easy to save all types of online media. You can record almost any streaming audio and video instantaneously, or schedule recordings to happen automatically later. Plus, the integrated Replay Media Guide lets you pick shows to record with a single click.
Here's all the things you can record with Replay A/V:
-Video Clips (YouTube, MySpace, Google Video, etc.)
-Internet Radio Shows and Stations
-Internet TV Stations
-iTunes™ and Shoutcast™ Radio Stations
-Podcasts
-TV Tuner Cards
-Webcams attached to your PC
-Webcam feeds from the Internet
-Sirius™ Online
-XM Radio ™ Online
-Radios, cassette players, or other audio devices attached to your PC
-Any audio you can hear on your PC!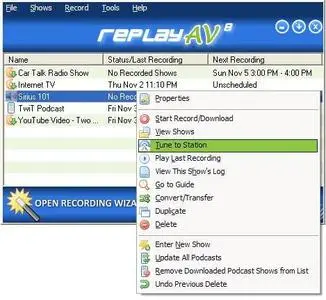 All the popular formats are supported, including Windows Media™, Real™, Streaming MP3, Flash Animations and Flash Video. Plus, Replay A/V includes an audio recorder that can snag anything you can hear. If you have an iPod or another MP3 Player, Replay A/V has some very handy ways to copy files to your device. For iPods, you can make Audiobook files, which let you make bookmarks in long audio files. All recordings can be automatically copied to any MP3 Player or iTunes.
The Most Advanced Recording Technology
Replay A/V is the only software that combines Stream Capture, Audio Recording and an Enhanced Podcast Client in one easy-to-use interface.
Stream Capture
lets you save the bits and bytes of streaming audio and video directly from the internet. Replay A/V is the only software that supports Windows Media™, Real™, Flash™, QuickTime™ and Shoutcast™ streams. The benefits of this technology are enormous - you can capture multiple streams simultaneously (10 or more is doable with most broadband connections), and you get perfect reproduction at the smallest possible size. Plus, unlike other audio capture programs, no background noises creep into your recordings, and the sound card remains free for normal use. Replay A/V also converts captured audio to MP3, WAV or iPod Audiobook files.
Audio Recording captures
anything you can hear on your PC, and saves it to MP3 or other popular formats. This means that you can capture any format, even ones that haven't been invented yet. And it's great for making personal copies of Audio Books or other content. You can record XM Radio and Sirius using this method, too. Special output options like Eliminate Dead Air and Compressed Speech make Audio Recording even more useful.
The Enhanced Podcast Client
built into Replay A/V gives you extra capabilities the big guys can't do. Any Podcast can be converted to a bookmarkable file on your iPod (so you can return to the place you were last listening). BitTorrent Podcasts are supported. You can download individual episodes with one click. There's a lot more, too.