RS Somnífero v.3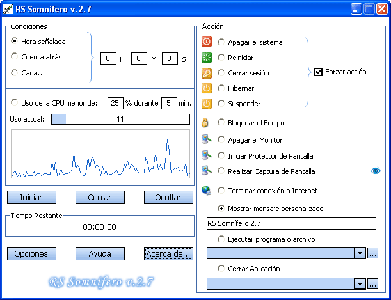 French | English

RS Somnífero est un gestionnaire d'arrêt qui vous permet d'éteindre votre ordinateur à l'heure que vous souhaitez. Vous programmez son arrêt selon l'heure choisie, par compte à rebours ou en fonction de l'utilisation de l'unité centrale. Mais ce logiciel ne se contente pas d'éteindre votre PC, il le redémarre, ferme une session, suspend le système, coupe la connexion à Internet, éteint le moniteur, montre les alertes et exécute des programmes ou des sons.


RS Somnífero is a task manager for the computer, that will allow you to carry out an action under the selected condition.

It has four different execution conditions. You will be able to carry out the action that you want at the Selected Hour, through a Countdown, by the CPU usage , or Every a established time. It has 13 different actions: Shutdown, Reboot, Log Off, Hibernate, Suspend, Lock WorkStation, Start the Screensaver, Make Screenshots, Turn off the Monitor, Hang up, Show messages, Execute programs or files and Close Opened Applications.

The whole configuration of the program is carried out from an only screen in a simple way for the user.

Now RS Somnífero has a setup option through internet.

You can also select the language and the style from the options window.

Version 2.7 adds the following enhancements:
- Execute condition Every…
- Action Lock WorkStation .
- Action Start Screensaver .
- Action Make a Screenshot..
- Action Close Application .
- CPU usage graph.
- Internet Control.
- New Configuration Options.
- Code and performance enhancements.



http://rapidshare.de/files/18828487/RS_Somn_fero.3.by_BestOfTe_m.rar

Ci@o