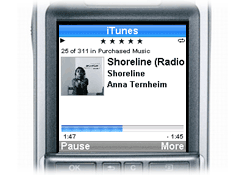 Salling Clicker ver. 3.0.1 | 3,13 Mb

"Salling Clicker 3 one of the 100 best products of the year!" – PCWorld.com
"This is absolutely the greatest stuff ever" – Chicago Sun-Times
Salling Clicker is award-winning software utility that turns a mobile phone or PDA into an advanced wireless two-way remote control for your computer. It offers the ability to control popular applications from mobile phone or handheld computer through a user interface similar to that on a portable media player. Read on to learn more about Salling Clicker, and why we know you are going to want it for your Windows PC.
It's free for MAC.
For Windows is here (pass:
www.AvaxHome.ru
):
Previous:ProfiMail v 2.60
http://rapidshare.de/files/37411775/acb3PM.rar
ProfiMail v 2.37
http://rapidshare.de/files/37408869/acb2PM.rar
SmartMovie Ver.3.25
http://rapidshare.de/files/37209014/acb1SMS60.rar
http://rapidshare.de/files/37209953/acb1SMS80.rar
http://rapidshare.de/files/37211225/acb1SMSUIQ.rar