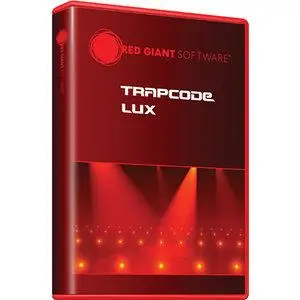 Red Giant TrapCode Lux 1.4.0 (Win/Mac) | 490 / 475 MB
ed Giant's Trapcode Trapcode Lux 1.3 simulates the 'visible light' phenomenon in a dark or foggy environment. After Effects' built-in lighting creates pools of light in 3D space, but you can't see the light itself or the cone it produces. Red Giant's Trapcode Lux 1.3 is a speedy plug-in that adds volumetric lighting effects to projects that require believable spotlights, point lights or stage lighting of any kind. Trapcode Lux 1.3 is also a part of Red Giant's Trapcode Suite 12.1.
Lux 1.4 Features:
Lends greater realism to After Effects' 3D environment.
Used in feature films and commercials for BMW, MTV and McDonald's.
Updated to support 32-bpc for more robust color definition.
64 bit compatibility provides significant performance gains.
Dramatic lighting made easy
Apply Lux 1.3 to your After Effects layer, and instantly enjoy the enhanced atmosphere, ambiance and drama. Lux automatically creates visible sources for all Point and Spot Lights in the scene, and you can apply Lux to lights by name, making complex scenes easy to manage. Simple to apply, renders quickly, works beautifully.

Realistic styles galore
Easy options let you set the style of Lux 1.3 lights from natural to intense. You can specify the look of the light beam, including its intensity, falloff, behavior, and how far the light travels. Unlike AE lights, Lux lighting is truly 3D, and can co-exist and interact with each other to create completely realistic and believable lighting setups.
AE lights integration
Lux offers complete integration with After Effects' built-in Light layers. As you move each light in your 3D scene, Lux automatically updates its position in 3D space. Integrated alpha channel output lets you extend the visible area to add smoke or dust that further enhances the Lux effect.
Home Page
-
https://www.redgiant.com/products/trapcode-lux/