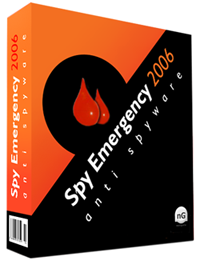 Spy Emergency 2006 v3.0.225.0 | 9.56 Mb
Would not it be nice if you did not have to worry about spyware on your PC, no ugly popups, no PC slowdown?
Spy Emergency is anti-spyware software that fast and secure removes spyware and other internet infections from your computer. Spy Emergency protects you against thousands of infections and potencially unwanted software, including:

Support for Internet Explorer, Mozilla Firefox and Opera Browser
Scan of your system memory
Scan of your registry
Scan of your storage
System directory storage scan
Tracking cookies scan
Host file scan
VX2 complaint hijackers scan
Automatic LSP stack repair
Real-time memory and prevention shields that blocks spyware before it executes
Browser shields, including homepage shield
Tracking cookies shields
Life-time Automatic database updates
News updates
Individual spy restore functionality
Keeplist
Scheduling support
Simple configuration
Intuitive and clear user interface for spyware removal
Handy Shell Extension Scanning
Skin support
Language support
Life-time Technical support
and much more…

Spyware
Adware
Malware
Homepage hijackers
Remote administration tools
ActiveX Components
Dialers
Scumware
Keyloggers
Trojans
Data mining software
Toolbars
Tracking cookies
Browser Hijackers/BHO's
Worms
Potentially unwanted software
and many other types of internet parasites, threats and infections.



Remove Spyware Quake, Trojan.Emcodec.E and many other danger spyware and adware now! Spy Emergency resident memory shields prevent new infections. Run scans regularly to protect your privacy.

Source:
http://www.spy-emergency.com/
Download:
http://rapidshare.de/files/36262682/302250.rar
Password:
www.AvaxHome.ru
Worth having:
cFosSpeed
- Speed up your internet connection!
Xp VLK
- No more WGA
See my other posts in the "myposts.html" file
albert00