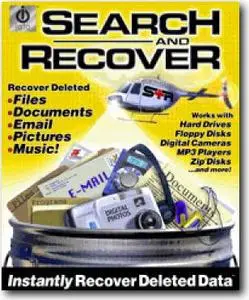 Iolo Search and Recover ver. 4.2 | 5.0 Mb | Windows OS
With Search and Recover you never have to feel that way again. This data recovery software rescues critical work and cherished memories you thought were gone forever.
Using the wrong data recovery tool can actually cause damage and reduce your chances of success. Rely on Search and Recover to make it safe and easy. It combines powerful technology with intuitive features to rescue data from your drives or devices that other products miss.
Intuitive
A user-friendly interface takes out the guesswork with guided step-by-step wizards and one-click operations. File, photo, and document recovery is fast and easy for novices and experts alike.
Convenient
The new TotalRecovery tool instantly locates and recovers all deleted data on any device with just one click. You can also preview multimedia and documents prior to recovery, ensuring that you always get back exactly what you lost.
Smart
New, innovative SmartScan technology automatically finds exactly what you lost and eliminates tedious searching hassles so you can get back to work immediately.
Strong
Enhanced StrongScan functionality uses proprietary methods to recover more deleted data than other products - even months or years after deletion.