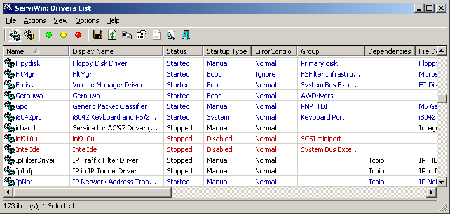 ServiWin
utility displays the list of installed drivers and services on your system. For some of them, additional useful information is displayed: file description, version, product name, company that created the driver file, and more.
In addition, ServiWin
allows you to easily stop, start, restart, pause, and continue service or driver
, change the startup type of service or driver (automatic, manual, disabled, boot or system), save the list of services and drivers to file, or view HTML report of installed services/drivers in your default browser.
No need installation.
Warning: Changing the status or the startup type of some drivers or services may cause to your operating system to work improperly. Do not disable or stop drivers/services if you are not 100% sure about what you are doing.
Info
Download * Скачать
Имеется интерфейс и на русском
.