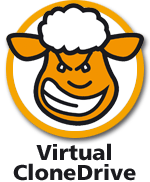 SlySoft Virtual CloneDrive | 1.1 Mb | Freeware
Even though I 've used Alcohol 120% and Virtual Drive in the past, Virtual CloneDrive does all I need, is a breeze to use, is well supported by a reputable company and is completely free. It's been posted here before, but only included in bundles of commercial Slysoft apps and easily overlooked, so I thought it time to let it stand on its own hooves. In SlySoft's words:
Virtual CloneDrive works and behaves just like a physical CD/DVD drive, however it exists only virtually. Image files generated with CloneDVD or CloneCD can be mounted onto a virtual drive from your hard-disk or from a network drive and used in the same manner as inserting them into a normal CD/DVD drive.
Features
* Supports all common image formats such as ISO, BIN, CCD
* Supports up to 8 virtual drives at the same time
* Easy to use - just double-click an image file to mount as a drive
* Virtual CloneDrive is freeware, you may use it at no cost.
System Requirements
* An IBM-compatible personal computer with a minimum 500 MHz Pentium-class microprocessor (1 GHz recommended) and 128 MB RAM (256 MB recommended)
* Windows 98/98SE/ME/2000/XP
* If you use Windows 2000 or Windows XP you must be an administrator to install Virtual CloneDrive
Note that although Alcohol 52% Free Edition is "free", it installs its own IE toolbar (which can be removed later). Virtual CloneDrive does none of this so for me wins hands down.
Home page:
http://www.slysoft.com/en/virtual-clonedrive.html
Here's an excellent "how-to" article from The How-To Geek:
"Mount Multiple ISO Images Using Virtual CloneDrive"
http://tinyurl.com/2fctmf
Download
(latest version is 5.2.0.2):
http://static.slysoft.com/SetupVirtualCloneDrive.exe