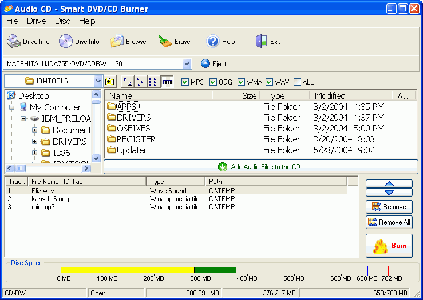 Smart DVD-CD Burner v3.0.67 (PC) | 8 Mb.
Smart DVD/CD Burner is an easy-to-use and effective DVD/CD burning software for Beginners and Professionals. With this burning program you can create high-quality CD (audio/data) and DVD discs, containing your music and files.
Full Drag and Drop support, Importing multi-session DVD/CDs, Burning Music CD directly from MP3/OGG/WMA/WAV files, On-the-fly recording, Erasing re-writable discs, Supporting majority of modern IDE/USB/SCSI/FireWire DVD/CD writers drive, Supporting buffer protection systems (BURN-Proof) and more are all included in the latest version of Smart DVD/CD Burner.