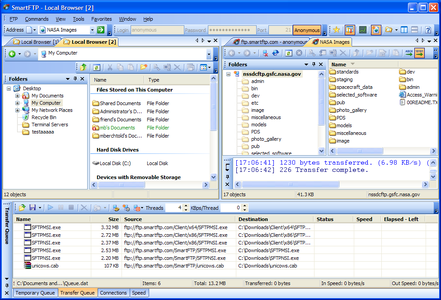 SmartFTP ver. 2.0.1445 | 3.2Mb
SmartFTP is an FTP (File Transfer Protocol) client which allows you to transfer files between your local computer and a server on the Internet. With its many basic and advanced features SmartFTP also offers secure, reliable and efficient transfers that make it a powerful tool. Client allows you to transfer files across the Internet. Multiple FTP connections can be opened at the same time, and you can copy files from one remote host to another (FXP). Remote-host directory information is cached for future viewing, and FTP URLs are supported.
В архиве также находится патч, что позволит вам без проблем пользоваться программой.
Size of archive: 3.2 mb
Features:
* Secure Connections (TLS / SSL)
- 168 bit, HIPAA compliant.
* Windows XP like graphic user interface
* Multilingual (more than 20 languages)
* IPv6
* On-the-fly Compression (MODE Z)
* UTF-8 Support
* Drag & Drop
* Multiple Connections
* Auto reconnect and resume of broken transfers
* Transfer Integrity - Verified Transfers (XCRC, XMD5, XSHA)
* FXP support
* Remote Edit
* Enhanced NAT/UPnP Support
* UPnP (Universal Plug and Play), ICS, ICF
* Transfer Queue
- Scheduling
- Uploads/Downloads/FXP
- Unlimited simultaneous threads
* International Domain Names (IDN)
* Proxy / Firewall support - SOCKS5, SOCKS4, SOCKS4A, HTTP Proxy, Wingate, Winproxy, CSM, Checkpoint FW-1, Raptor
* Backup Tool
* URL Watcher
* Cache Remote Directories
* FTP command line
* Custom Commands
* CHMOD (Properties)
and much more …
Download:
http://www.ftp2share.com/file/34516/smarf_user.rar.html