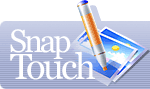 SnapTouch ver. 2.31
Win App | 3.3 Mb | RS.COM
Do you love taking lots of digital photos? Use SnapTouch to touch up and arrange them in a snap!
Main program features:
• Smart file importing and renaming
• Creating collections and batch processing
• Date and time stamping
• Removing the red-eye effect
• Cropping while maintaining proportions
• Viewing EXIF
• Adding comments
• Supporting of localizations and skins
Also, SnapTouch includes many other features commonly found in photo processing programs.
DOWNLOAD