SoftDisc 2.55.212 Retail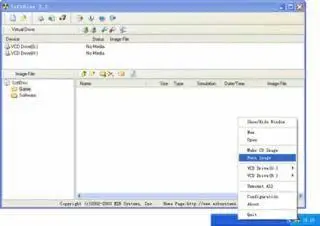 SoftDisc 2.55.212 Retail | Win32 |Size: 5.16 MB
SoftDisc is an image file creating/editing/managing tool. It also lets you emulate a virtual CD or directly burn a CD image file - that is handy when you, for example, need a CD in use when playing a game. The program lets you store disk information in ISO format. It allows you to record info on disk from local and network hard disk drives as well as removable media. What's more important, once you have created an image file, you can modify it in any way you like.
SoftDisc integrates UltraISO, Daemon Tools and Nero in one making it an all-in-one solution for your CD/DVD images. It is capable of handling up to four virtual CD-ROM drives and is able to simulate various protected game CDs. The interface is nice, XP-ish and Explorer-like.
Features:
* Duplicate disc to ISO file from CD-ROM.
* The compact disc image document resource management, may manage the ISO documents with tree manner
* Integrates UltraISO/WinISO CD image creating/editing/converting tool, realization:
a) make ISO document from hard disk, compact disc, and network disk files.
b) extract document or folder from the ISO document.
c) edits lots of ISO image format (such as Nero Burning ROM, Easy CD Creator, Clone CD created compact disc image document).
d) make bootable ISO document.
* Integrates Daemon-Tools CD-ROM simulation tool, realization:
a) supports up to 4 CD/DVD virtual drives.
b) supports Safedisc, Securom, the Laserlok simulation, may play protected compact disc game.
c) has the simulation audio CD, Windows auto-mount and other cool characteristics.
*Integrates Nero Burning-ROM recording software, burn CD/DVD image files directly.
Rapidshare
http://rapidshare.de/files/35956692/SftDscv255212.rar.html
No Password
Best regards,
WebGurru