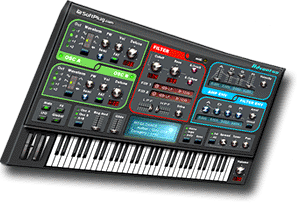 Softplug Adventus VSTi Pack ver. 1.0 & ver. 1.5 by PROPER | 6,84 Mb
Release Date: 10th November 2006 | Packed By: MyConcept | Bonus: 150 Presets for ver. 1.5
Both versions (1.0 & 1.5) are included and include a bonus 150 soundbanks for the latest version 1.5
VST Instrument Plugin: If you're looking for great leads, pads, strings, basses, organs and pianos from a Softsynth, for live performance work or sequencing… look no further! VST intrument for quality sound recording and music making. There are loads of links to cracks for Softplug Adventus v1.5 on the internet but none of them will work with the latest build – THIS PACK DOES! All tested and working 100%.
After ages of searching everywhere on the internet I finally found these working versions. All tested and working 100%. I've also bundled 150 addition presets for version 1.5.
SoftPlug Adventus VSTi 1.5 Features:
6 oscillators, each with the "fat" option.
Waveforms
Saw, Sine, Triangle, Pulse, Ramp, White Noise.
Portamento Controls.
Volume control, Fine-tune, Semi-tune,Pulse Width, Phase Modulation, Velocity sensitivity, key follow and Key track.
6 Resonant Filters 12dB, 24dB, Moog Filter Types
3 diferents Low Pass, High Pass, Band Pass, Band Reject ADSRÆs, Amplifiers with controls for Attack, Decay, Sustain, Release
Modulation with substantial routing options
2 assignement with 2 destinations each.
2 x LFOÆs with substantial routing options Mode, Range, Beat Step Sequencer with control for Pitch, Filter and FX paremeter, Phase Modulation option.
Effects:
Chorus, Twin Delay, Reverb, Drive (Distortion)
Other Features
6 note polyphonic operation Mono/Legato/Polyphonic
control Midi CC control with learn capability 128
high-quality preset Instrument Sounds and FX
Enjoy, but don't forget that software developers need respect and a right to earn a living too so if you continue to use this do not leave SoftPlug out of the loop otherwise he might just give up making great synths.