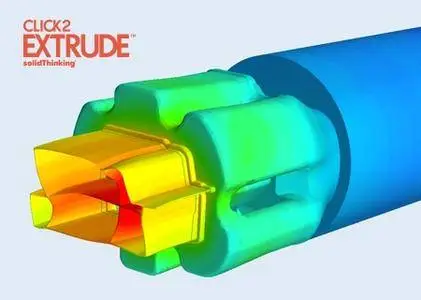 solidThinking Click2Extrude Metal/Polymer 2017.2.3581 | 2.0 Gb
solidThinking is pleased to launch the Click2Extrude Suite 2017.2 consisting of Click2Extrude Metal and Click2Extrude Polymer as the next generation environment of the industry leading HyperXtrude suite.
solidThinking Click2Extrude Metal and Polymer are simulation based environments designed to help metal and polymer extrusion companies meet the ever increasing demands to produce complex profiles with tight tolerances, quality surface finishes and high strength properties at reduced cost. Click2Extrude Metal and Click2Extrude Polymer are virtual presses where users can visualize material flow and temperature inside a die during extrusion and make necessary changes to ensure balanced flow, while identifying and eliminating product defects.
solidThinking Click2Extrude Metal/Polymer 2017.2 Release Notes:Quenching Interface
Every extruded metal part is rapidly cooled soon after extrusion. The industry uses different types of quenching mechanisms to cool the profile, including spray cooling, air nozzle cooling, air fan cooling, and immersion quenching. In this release, a new interface has been added to setup a quenching analysis, and it supports spray cooling. You can either start with a 2D surface of the profile shape, or a 3D profile solid from which you can setup the model with a few mouse clicks. A quenching analysis helps you to understand and improve the performance of quench systems. Results computed by the solver include temperature history, cooling rates, grain size, and quench factor analysis. The solver can also be dynamically or statically linked with OptiStruct to do a residual stress analysis. The quenching interface uses its own license strings for the GUI and interface, which are different from the extrusion license codes.
Temperature Unit in Post-processing
Temperature results are now displayed in user units. Click2Extrude Metal/Polymer exports data in three different unit systems: Metric, British, and SI. Corresponding temperature units are °C, °F, and K. It is recommended that you solve in either Metric or British unit systems.
Results Availability
When a model file is loaded (or after the analysis is in a session) from the run status, Click2Extrude Metal/Polymer will automatically check for the availability of the results in that folder and indicate it with a green flag.
Automatic Meshing Improvements
Click2Extrude Metal/Polymer uses two different meshing strategies to automatically mesh the model (HyperMesh and SIMLAB). Even though the SIMLAB strategy takes more time, it is more robust and produces a better quality mesh. This strategy is now enabled as the default strategy for use in extrusion, tool deflection, and coupled analysis. This enhancement has resolved many meshing issues.
Results Visualization and Section Cuts.
Section cut can now be applied while visualizing the results. This will help you to look at the results.
Workflow help for Contexts
A single line of help will now be displayed when you activate a tool from the ribbon. Clicking the line of help will display additional information.
Resolved Issues
- Resolved the issue where the auto-scale factor is automatically set to 1.0 when results are displayed, and the display of deformation (nose cone) is turned off and could only be enabled by clicking the Deformation tool.
- Resolved the issue for Fit Material in the material database.
- Project names in selected preferences can now be exported. The necessary input files for HyperMesh will now be exported in English names.
- In the Export dialog, saved materials are also populated for material selection.
- Issues regarding saving data to a model file has been resolved. Any changes made to a model will now be saved to a STMOD file after export. No changes will be saved to the imported CAD file.
- Additional data checks have been added to Click2Extrude Metal/Polymer. Part names will automatically be corrected during export if Pocket1 and Pocket2 are organized incorrectly. You will also be warned if a part is organized as Weld Chamber without Portholes.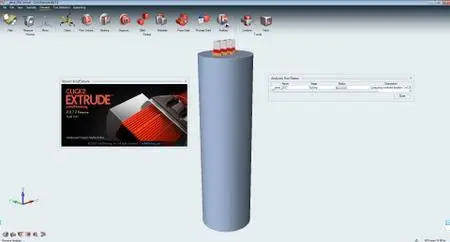 About solidThinking
solidThinking creates, develops, and markets technology that helps our user community bring the most desirable products to their customers faster. solidThinking software is sold and supported by a global network of distribution partners and is also available as part of the Altair HyperWorks suite. solidThinking is a wholly owned subsidiary of Troy, Mich. (USA)-based Altair.
About Altair
Founded in 1985, Altair is focused on the development and application of simulation technology to synthesize and optimize designs, processes and decisions for improved business performance. Privately held with more than 2,600 employees, Altair is headquartered in Troy, Michigan, USA with more than 45 offices throughout 20 countries, and serves more than 5,000 corporate clients across broad industry segments.
Product:
solidThinking Click2Extrude Metal/Polymer
Version:
2017.2 Build 3581
Supported Architectures:
64bit
Website Home Page :
www.solidthinking.com
Language:
english
System Requirements:
PC
Supported Operating Systems:
Windows 7even / 8.x / 10
Size:
2.0 Gb
Please visit my blog
Added by 3% of the overall size of the archive of information for the restoration

No mirrors please