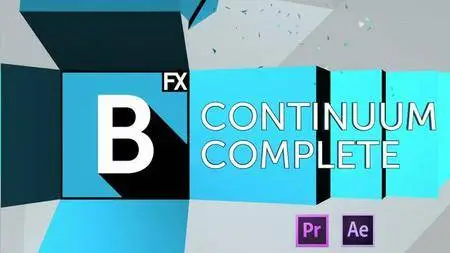 Boris Continuum Complete 10.0.5 for Adobe After Effects & Premiere Pro | 252.7 MB
BCC 10 is the most complete plug-in collection available for Adobe Premiere Pro & After Effects users. Over 250 filters and tools for professional motion graphics, visual effects & finishing! Make it in post.
Integrated mocha planar tracking & masking
Imagineer's Academy Award-winning mocha planar tracking and masking engine is now integrated inside the BCC PixelChooser allowing editors to do more advanced finishing work without leaving the timeline.
- Drastically reduce time-consuming masking & manual keyframing
- Simplifies tasks such as blurring faces, isolating filters & correcting footage
- Unlimited mask layers for simple effect isolation to full blown rotoscoping
- Track lens flares, corner pins, titles & graphics with mocha tracking data
BCC Beauty Studio
BCC Beauty Studio is a new skin retouching tool that gives editors the ability to smooth skin and reduce blemishes making their talent look better.
- Advanced skin smoothing produces professional and realistic results for a digital makeover.
- State-of-the-art keying algorithm isolates skin tones, while retaining natural sharpness and contrast.
- Integrated mocha planar track masking reduces manual keyframe labor.
BCC Title Studio
BCC Title Studio is a next generation 2D/3D titling plug-in. Create professional broadcast titles and high quality motion graphics at any resolution.
- Create stylized 2D or 3D titles with custom bevels, fills and styles.
- OpenGL-accelerated features include 3D extrusions, materials, cameras, lights, and deformers
- Import 3D models from Maxon C4D or Adobe Illustrator EPS files.
- Includes a custom interface plug-in and stand-alone application.
New Image Restoration Tools
Three new filters are added to the already highly useful set of tools that fix, repair, and restore footage.
- BCC Remover fills in missing pixels and removes objects with clone and auto-fill options.
- BCC Dropout Fixer easily restores tape based damaged footage with field or frame dropouts.
- BCC Reframe reformats and stylizes vertical cell phone video footage into a standard 16×9 aspect for broadcast. Includes options to stylize the foreground and background with blur, stretch, and mirroring.
New Effects in BCC 10
- BCC Light Leaks adds organic and naturalistic "in-camera" light and exposure effects to stylize and enhance footage.
- BCC Video Glitch recreates the distressed look of compression artifacts, signal loss, and corrupt digital video. The embedded Beat Reactor can sync glitch effects to audio.
New Transitions in BCC 10
New transition effects. Each transition comes with many pre-built presets for an easy starting point. Customize, save and share your transition effects.
- BCC Light Leaks Dissolve creates a light exposure-based transition
- BCC Cross Glitch mimics abrupt digital signal transitions
- BCC Cross Melt conveys a new organic look and feel
- BCC Cross Zoom combines zoom, glow, and dissolve into one simple transition
FX Browser
Quickly and easily find your perfect look.
The FX Browser™ can be accessed both in each individual filter and as a standalone to browse the entire BCC effects presets library. The built-in browsing history lets you keep track of your most recent searches. All effects play back over video in your timeline, not just a poster frame.
Host Compatibility:
Adobe: Creative Cloud 2014-15, CC, CS6, CS5.5 – After Effects and Premiere Pro.
Home Page
-
https://borisfx.com/pages/continuum-complete/