Symantec Client Security Corp Edit v3.1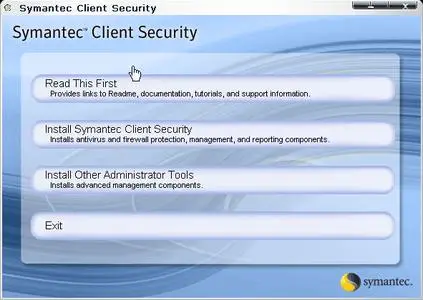 The last version of this useful antivirus and firewall suite from Symantec. No serial or activation necesary.
Key Features:
* Integrated security technologies proactively protect enterprise client systems from security risks and network intrusions
* Enhanced protection from spyware and adware, including:
- - Real-time protection to reduce the risk of spyware reaching the system
- - Automatic removal for easy disposal of security risks
- - Side-effect repair to clean up registry entries, files, and browser settings after hard-to-find spyware infection
- - Control over spyware settings via existing Symantec™ AntiVirus Corporate Edition management interface
* Generic Exploit Blocking enhances intrusion prevention capabilities, resulting in reduced time-to-protection after vulnerability announcements
* Optimized out-of-the-box firewall configurations minimize configuration efforts while stopping the majority of threats
* Enhanced tamper protection guards against unauthorized access and attacks, protecting users from viruses that attempt to disable security measures
* Backed by Symantec Security Response, the world's leading Internet security research and support organization
Symantec Client Security includes:
- Cetral Quarantine Server
- Cetral Quarantine Console
- SAV fo x64-bit systems
- SAV Client & Server
- Symantec System Center
- LiveUpdate Administration Utility
- SClient Security Firewall Administration
- SC Security Client
- AMS
There are 460 MB compressed aprox because have administratives tools and some one.
links:
http://rapidshare.de/files/16498427/SCSCE.part1.rar
http://rapidshare.de/files/16499333/SCSCE.part2.rar
http://rapidshare.de/files/16501942/SCSCE.part3.rar
http://rapidshare.de/files/16502665/SCSCE.part4.rar
http://rapidshare.de/files/16503656/SCSCE.part5.rar
http://rapidshare.de/files/16504013/SCSCE.sfv
PASS:
jamezua