TamaSoft Pepakura Designer v2.1.2 | Windows OS | 3.56 MB
Home Page
This software is the English version of paper craft software "Pepakura Designer" developed in Japan. Pepakura Designer allows you to create a development for paper craft easily from 3D data used in 3D CG software. Please try to create original works.
This software is open to the public as shareware. You can download and try it freely. Some features will be restricted until you purchase a license key.
Note: Pepakura Designer doesn't have any 3D modeling functions. You need to create own 3D models with another 3DCG software (ex, 3D Studio, LightWave, Softimage and so on). If you don't have any 3DCG software, how about using freeware "MetasequoiaLE" which file format are supported by Pepakura Designer.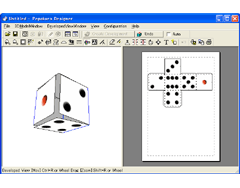 Main Features
1. Auto Create Development Feature
2. Edit Development Feature
3. Handcraft Support Feature
4. Output Development
5. Compatibility with 3D CG Software
6. Other Features
7. Rich Sample Data
Product Details
** Commodity Information
Requirements
OS: Windows2000/XP/Vista
CPU: Intel and compatible CPU Pentium 200MHz or greater (350MHz or greater recommended)
Memory: 64MB (128MB or more recommended)
HDD: 150MB or more free space
Video Output: Resolution 800x600 pixels, 65,536 color or greater
* You need a printer to print developments.
Download (3.56 MB)
CFF release.