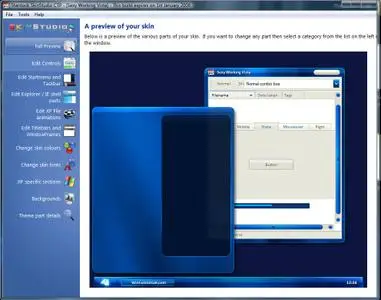 Stardock SkinStudio 6 Tech Preview | 7.91 MB
SkinStudio is a program that allows users to create visual styles for Windows XP and Windows Vista. These visual styles are applied by the popular GUI skinning program, WindowBlinds. A fully complete visual style will change the title bars, borders, push buttons, scrollbars, Start bar, Start menu, and virtually every other part of the Windows GUI.
SkinStudio 6 represents a complete rewrite of previous versions of SkinStudio. The new version is designed to make it much easier for new users to get into skinning. Skinners can change as much or little of the GUI as they choose and SkinStudio will fill in the rest for them.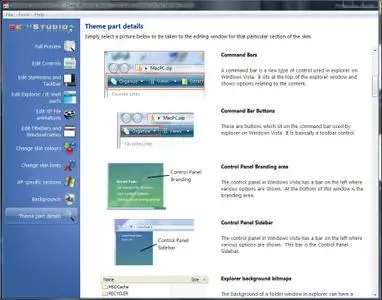 Task Oriented Design
SkinStudio 6 takes on a much more task-oriented design. Rather than the user being overwhelmed with information by seeing all elements of the visual style at once, SkinStudio 6 instead takes the user step by step through the skin.
Clean New Interface
Each element shows either (or both) a Windows XP logo or a Windows Vista logo to let the skin author know which features are supported under which operating system. Moreover, when editing a particular element, the interface is clean and to the point.
Community Support
Moreover, each section will be tied to a particular part of the SkinStudio portion of the Customization Wiki. In this way, users can instantly get help making skins from not just Stardock but the entire skinning community.
Supports WindowBlinds 6 New Features
SkinStudio 6 is being designed with the upcoming WindowBlinds 6 in mind. All the new Windows Vista controls, Internet Explorer 7 controls and more will be easily editable. No more trying to figure out how to support the latest/greatest features.
Features:
* More user friendly than previous SkinStudio
o Task Oriented Design
o Clean New Interface
* Supports New Vista Features
o Sidebar support
o Vista Start Menu Buttons
o Edit Vista Control Panel and navigation parts
o Support for Internet Explorer 7
o Taskdialog controls
o Vista Explorer: Command Bar, Information Pane, List View, Please Wait screen, etc.
o Explorer background
* Theme Part Details tab that visually displays components of the skin for easy access
* Improved support for title bar buttons. Easily change the per-pixel settings.
* Improved support for adding glow effects
* Improved support for making sub-styles
Pro Features: (just some of the outstanding Pro features coming soon)
* Advanced code editor tab
* Start Menu animation builder
* More features to come!
System Requirements:
* Windows Vista (32-bit and 64-bit) and Windows XP/2003
* 1GHz or faster processor recommended
* 120MB free drive space (including the pre-requisite of installing WindowBlinds)
* 512MB RAM
* Note: A 16MB DirectX 8 or later compatible video card with appropriate driver support is required for per-pixel alpha-blended skins. Some integrated graphics solutions and lower-end cards from before 2004 may not be able to use per-pixel skins.
Download 7.91 MB RAR
http://rapidshare.com/files/64311589/SS_XIS.rar