Tell me more | German | Foreign Language Course | Level 1 | 8*50 Mo | alcohol image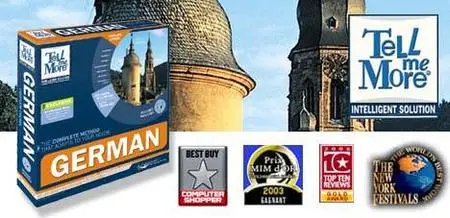 Learn German with TELL ME MORE, THE international standard for language learning software:
• Over 5 million satisfied users worldwide.
• Global Leading Organizations have placed their trust in TELL ME MORE: the U.S. State Department, the U.S. Government, the FBI, the Canadian Federal Government, EDS, BMW, Carnival Cruise Lines, Mercedes, Telefónica…
• Used everyday in more than 10,000 Academic Institutions.
TELL ME MORE addresses all the skills critical to learn German: reading, writing, listening, speaking, vocabulary, grammar, and culture.
This package includes all 3 levels: Beginner, Intermediate, and Advanced and is the perfect solution for learning German. With more than 750 hours of learning, this is the most extensive offer on the market to help you learn German.
The intelligent software version evaluates your progress as you learn German, and uses your results to suggest the activities and exercises best suited to your needs.
Whatever your objectives or level, TELL ME MORE adapts to your needs and guides you through the learning process, just as a teacher would.
750 HOURS OF LEARNING GERMAN, DIVIDED INTO 6 WORKSHOPS
• The Lesson Workshop organizes activities by topic.
• The Cultural Workshop helps to improve your knowledge of the countries in which the language is spoken.
• The Grammar and Vocabulary Workshops include sets of exercises linked to grammar rules, verb conjugations, and key vocabulary words (classified by either topic or level).
exercices • The Written Workshop includes sets of exercises designed to help you improve your written expression.
• The Oral Workshop contains numerous dialogues and interactive videos focusing on both oral comprehension and expression.
>
To learn German, this Complete Course contains 3,600 exercises, organized in 35 different types of activities.
3 ALTERNATIVE LEARNING MODES
TO HELP PERSONALIZE YOUR GERMAN LEARNING
modes
mode
• The Dynamic Mode uses real-time performance analysis to tailor the German learning process to your individual needs. Evaluating your progress as you work, it adjusts your activities based on the results of your previous exercises.
• The Guided Mode offers a personalized lesson structure based on your own objectives and time constraints.
• The Free-to-Roam Mode allows you to select the activities and workshops of your choice, giving you the freedom to create your own German lessons.
THE LATEST TECHNOLOGY TO HELP YOU LEARN GERMAN
• State-of-the-art speech recognition technology enables you to evaluate your pronunciation, and automatically detects and corrects your errors (using S.E.T.S.® technology).
speech recognition technology
• 3D animations illustrate the movements of the lips and mouth to help improve your pronunciation.
animations
• A modern, user-friendly interface ensures effortless browsing.
• 2 hours of video activities included.
http://rapidshare.de/files/25077890/TMM-G1.part01.rar.html
http://rapidshare.de/files/25078042/TMM-G1.part02.rar.html
http://rapidshare.de/files/25078106/TMM-G1.part03.rar.html
http://rapidshare.de/files/25078183/TMM-G1.part04.rar.html
http://rapidshare.de/files/25078255/TMM-G1.part05.rar.html
http://rapidshare.de/files/25078323/TMM-G1.part06.rar.html
http://rapidshare.de/files/25078388/TMM-G1.part07.rar.html
http://rapidshare.de/files/25078459/TMM-G1.part08.rar.html
http://rapidshare.de/files/25078524/TMM-G1.part09.rar.html
http://rapidshare.de/files/25078610/TMM-G1.part10.rar.html
http://rapidshare.de/files/25078688/TMM-G1.part11.rar.html
pass : freetoshare
Don't ask for other share (oxy, megaup,…) i'm on free account, and i need points
for going on uploading.