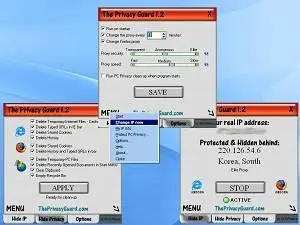 The Privacy Guard ver. 1.2 | 1,12 MB
Surf the Web anonymously and delete files containing privacy information. Unban from forums. With your IP address you are recognized on any site. It is logged and then it can be used to track it back even to your home. Your IP address may be used by hackers to enter your computer. By using The Privacy Guard your IP will never be compromised. It works in the background and changes proxies periodically every few minutes (user selected), so you become impossible for tracing. Be protected from the time you start your computer.
Version 1.2 allows to delete files that can show privacy information and cleans history, cookies, and temporary files automatically.
You are welcome to download From OxyShare:
http://www.oxyshare.com/get/64...9c6.19031687/a-tpg120.rar.html