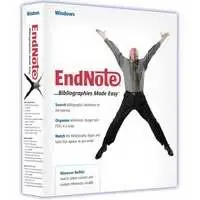 EndNote is the industry standard software for organizing references and creating bibliographies. With EndNote X, we are creating a new standard for ease-of-use. And that has millions of students, researchers, writers and librarians worldwide - jumping for joy!
Organize your PDF files with EndNote libraries
EndNote X introduces a new way to manage your PDF files. Now you can drag and drop a PDF file onto an EndNote record saving many steps and creating a link automatically. The PDF files are stored along with the EndNote references. And when you need to move your EndNote library between computers, the new compressed library option creates a single-file backup for easy transport.
View more - or less - detail as desired
EndNote X expands your library view with up to eight fields enabling you to sort columns quickly. A new icon identifies references containing links to PDF and other files. The reference edit window now includes a show/hide empty fields option to reduce scrolling for reference detail.
Other new features:
Reference type lists are now alphabetized for locating easily
Four new reference types - Grant, Ancient Text, Dictionary, and Encyclopedia
The "Electronic Source" references type is renamed to "Web Page."
New - compressed library option creates a single-file backup for moving EndNote libraries between computers
Store up to 45 links per reference in the "Link to PDF" field
Convert existing PDF links to the new EndNote-relative link in one step
Use the PDF icon in the EndNote toolbar to open the first linked file in the highlighted reference
"Change Text" and "Change Fields" include a new option for tab and carriage returns used in phrases
Search fields and words using "begins with" and "ends with" - replaces "Use Full Text Index" of previous versions
"RTF Document Scan" is renamed to "Format Paper"
Search and collect references in new ways
EndNote X offers new search options including "begins with" and "ends with" for field and word searching. With continued suggestions from users, EndNote X includes new and updated files for searching online resources, importing references, and formatting bibliographies. You'll find 800+ connections to online sources, 540+ import filters and over 2,300 publishing styles!
System Requirements:
180MB hard disk space available
256 MB RAM
CD-ROM drive required for installation — not required for download installation.
Internet connection required to search online databases.
EndNote X files are compatible across Windows and Mac OS X platforms
EndNote X is Unicode compliant.
Windows 2000/XP
Windows 2000 (service pack 3) and XP
Pentium 450-megahertz (MHz) or faster processor
Cite While You Write feature: Microsoft Word 2000, XP, 2003 and 2007
"Format Paper" feature: compatible with Microsoft Word, WordPerfect and other word processors that can save or export files in Rich Text Format (RTF).
Mac OS X 10.3.6-10.4.x
Intel Core Duo or PowerPC Mac 450-MHz min.
Cite While You Write: Microsoft Word X, 2004
RTF Document Scan: works with RTF (Rich Text Format) files created by many word processors including OpenOffice, FrameMaker, AppleWorks and more.
Free of password.
http://rapidshare.de/files/24262976/thoendnotx10002114.rar