Tell me more Chinese : Level I to III 400mb !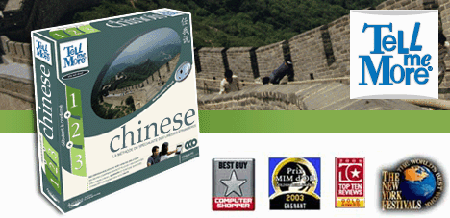 Learn Chinese with TELL ME MORE, THE international standard for language learning software:
• Over 5 million satisfied users worldwide.
• Global Leading Organizations have placed their trust in TELL ME MORE: the U.S. State Department, the U.S. Government, the FBI, the Canadian Federal Government, EDS, BMW, Carnival Cruise Lines, Mercedes, Telefónica…
• Used everyday in more than 10,000 Academic Institutions.
TELL ME MORE addresses all the skills critical to learn Chinese: reading, writing, listening, speaking, vocabulary, grammar, and culture.
This package includes all 3 levels: Beginner, Intermediate, and Advanced and is the perfect solution to learn Chinese.
Developed in collaboration with INALCO (National Institute of Languages and Oriental Civilizations), TELL ME MORE Chinese is the first language method based on speech recognition technology that is able to recognize the four tones of Mandarin Chinese. TELL ME MORE Chinese introduces the standard Chinese used in newspapers, television and radio broadcasts throughout the People's Republic of China. The Pinyin romanization system, a crucial learning tool for beginners, is used to familiarize students with the pronunciation and recognition of essential simplified characters. With TELL ME MORE you will learn Chinese mastering:
• Over 800 Basic Characters,
• Listening and Written Comprehension,
• Pronunciation,
• Written Expression and Grammar
300 HOURS OF CHINESE LEARNING WITH MORE THAN 1,500 EXERCISES
• Interactive Dialogues
Use your computer to practice speaking in an interactive manner and to perfect your pronunciation, with over 1,500 words and phrases taken from the dialogues.
The dialogues are based on everyday conversation and are supplemented by 400 photos illustrating Chinese culture.
• Glossary
Learn Chinese vocabulary with a glossary including more than 3,000 recorded words.
• Grammar
Consult 30 key grammar points, presented in a clear and concise manner.
• Over 1,500 exercises to learn Chinese
Enhance your knowledge and understanding of the course with a wide range of writing and listening activities, related to the grammar and vocabulary points covered in the lessons:
chinese language software
• Picture/Word Association
• Word Association: Chinese/Pinyin
• Word Association: Chinese/English
• Word Association: Chinese/Chinese
• The Right Word
• Fill-in-the-Blanks
• Mystery Phrase
• Word Order
• Dictation
• Crossword Puzzles
• Lesson Report
Learn Chinese, evaluate your coursework in the 18 lessons, and listen again to your dialogues with the computer.
THE LATEST TECHNOLOGY TO HELP YOU LEARN CHINESE
• Cutting-Edge Speech Recognition Software
Using speech recognition technology, TELL ME MORE is able to recognize the four Chinese tones, evaluate your pronunciation and correct any mistakes. With the help of the voice graph and pitch curve, you can improve your pronunciation, intonation, and learn Chinese more effectively.
• Automatic Detection of Pronunciation Errors: S.E.T.S.®
TELL ME MORE pinpoints pronunciation errors within a sentence thanks to its exclusive S.E.T.S. technology (Spoken Error Tracking System).
A ONE-OF-A-KIND CHINESE LEARNING METHOD
• Simple and progressive lessons in Mandarin:
Mandarin Chinese, also known as putonghua, is the official language of both the People's Republic of China and Taiwan. The use of the Pinyin phonetic transcription system throughout the program will help you master and learn Chinese pronunciation.
http://rapidshare.de/files/24181766/TMM-Ch.part1.rar.html
http://rapidshare.de/files/24179626/TMM-Ch.part2.rar.html
http://rapidshare.de/files/24179765/TMM-Ch.part3.rar.html
http://rapidshare.de/files/24179910/TMM-Ch.part4.rar.html
http://rapidshare.de/files/24180078/TMM-Ch.part5.rar.html
http://rapidshare.de/files/24180259/TMM-Ch.part6.rar.html
http://rapidshare.de/files/24180411/TMM-Ch.part7.rar.html
let me know if you want the german one…
pass :
www.AvaxHome.ru
or : freetoshare