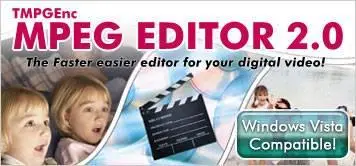 TMPGEnc MPEG Editor 2.0 v2.2.8.177 Retail Version [English](working)
Size 15.2 Mb | OS : All Windows & Vista Compatible
The Faster easier editor for your digital video! MPEG Editor 2.0 lets you customize your shows from your DVD-Recorder exactly the way you want it. Keep it in High Definition or not, cut out the scenes you want to, edit out the commercials you want to, or even just take your own footage and edit it.
Main features
How will you use it?
* Edit your favorite TV shows and home movies
* Maintain your High Definition video quality while editing
* Make sure your edited video fits your favorite media
* Cut-Edit with surprising ease and speed
* Scroll through your video at high speeds
# Product Overview
MPEG Editor 2.0, the easiest frame-level cut-editing program around, has just
gotten better. Offering High Definition video and set top DVD Recorder (DVD-VR)
support, integrated Dolby Digital sound, fit-to-disc transcoding, Smart
Rendering, multiplexing and de-multiplexing, and much more, MPEG Editor 2.0
lets you enjoy cut-editing your video with professional quality and precision.
MPEG Editor 2.0 is the faster, easier editor for your digital video!
Special thanks to L33VaNcL33F for this release