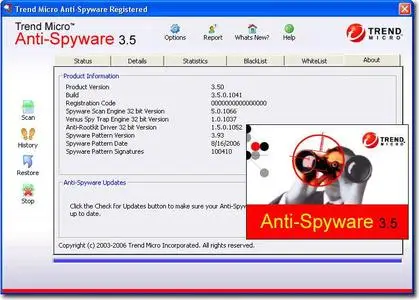 Trend Micro Anti-Spyware is a privacy protection product. It can clean areas of your computer that might be used to track or reveal your computer and Internet activity, including your web browsing history, Internet cache files, unwanted Internet cookies, and more.
In addition, Trend Micro Anti-Spyware can scan your PC memory and hard drive to alert you to the presence of various types of potential software privacy threats like Adware, Trackware, and Trojans. You can decide if you wish to have Trend Micro Anti-Spyware remove these from your computer.
Trend Micro Anti-Spyware 3.5 provides the following features
- New full scan scheduler added. Enables user to set up daily or weekly scans. To enable scheduler, click the "Options" button, then click on "Scheduled Operations"->"Schedule Full Scan"->"Options".
- Improved VST. Now detects malware or spyware files when they are created.
- Includes SSAPI 5.0 as the engine.