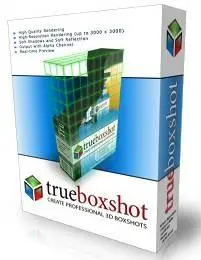 True BoxShot 1.5.2.70
True BoxShot is an easy tool to create quality box shot of your software box cover. The first thing that your potential customers encounter when they meet your product is the boxshot. For many, this is the moment they decide to take a closer look at your product or search for another. Take full advantage of this first impression by presenting a professional boxshot!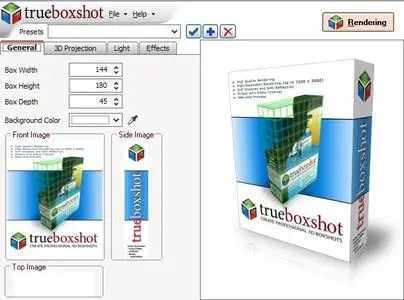 Most important features of the True BoxShot Version 1.5
released Sept 1, 2006
(List of changes)
- Main advantage of the True BoxShot is that it produces high quality images with sub pixel accuracy rendering without fuzzy edges.
- The Soft Shadows and Light enhances the three dimensional feeling of the boxshot image.
- Soft Reflection. It gives additional positive impression.
- The Wireframe makes it possible to show the contour of the boxshot in cases where the colour of your software box is similar to that of the background.
- The transparency feature allows you to use the boxshot image with alpha channel in complex compositions and therefore you can take full advantage of .PNG images!!