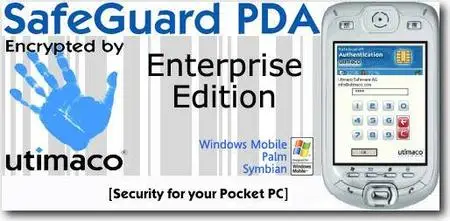 Utimaco SafeGuard PDA Enterprise Edition ver. 4.11.0 Retail | 32.2 Mb | Windows OS
Utimaco SafeGuard PDA Enterprise Edition v.4.11.0 - is a professional product that protects Pocket PC's and the data stored on them against unauthorized use. It uses the powerful AES encryption algorithm to provide various ways of effective user authentication and many more sophisticated security functions. SafeGuard PDA plays a major role in setting up a complete security infrastructure, covering everything from mobile Pocket PCs, to workstations and notebooks, to servers. It works in combination with other products from the SafeGuard product range. The Enterprise Edition is ideal for larger companies who want to enforce and control a company-wide security policy on a large number of Pocket PCs. Unlike the Personal Edition, which is configured locally by the owner of the device, the Enterprise Edition provides a way to centrally enforce and maintain the SafeGuard PDA security settings, and centrally configuring the freedom that a user has to adjust settings locally.
The Enterprise Edition consists of two components:
- SafeGuard PDA Administration component for managing clients. This component has the snap-ins to the Management Console, the Challenge Response wizard for a PC, and the cabinet files for software distribution via third party tools.
- The SafeGuard PDA Client component is the part of SafeGuard PDA that is installed on client PDA's.
SafeGuard PDA Highlights:
• Transparent protection of data in PDA memory and removable media against unauthorized access
• Easy, encrypted data exchange between PC and PDA platform via memory cards or E-Mail
• Flexible, centrally enforcable security settings and configuration rights for end-users
• Advanced security algorithms
• Authentication choices (password, biometric, symbol pin)
• Ease of deployment via central management and configuration
What's New 4.11.0:
• Transparent PIM Encryption is now also available for Windows Mobile 5.
• The GUI on the device is now also available in Japanese.
• Option to import country specific emergency phone numbers without requiring separate policies per country (TEL files).
• Option to prevent autorun from storage cards.
• Option to block storage cards (WM 5 only).
• Autorun tool can be used for SG PDA product installation with third party software (SGReboot is not used any more).
• Improved upgrade does not ask for a new password any more.
Notes on Windows Mobile 5.0 restrictions:
• Windows Mobile 5.0 devices are no longer at risk of an accidental hard reset due to loss of battery power. This has been avoided by a new device design that no longer includes a flash filestore that is needed for SG PDA's "survive hard reset" feature. We are currently working on a solution for surviving intentional hard resets on some Windows Mobile 5 devices.
System Requirements:
- Windows Mobile device: Windows Mobile 2003, Windows Mobile 2003 SE, Windows Mobile 5.0 or corresponding Phone Edition;
- Palm OS supports Palm OS 3, 4 and 5.x devices;
- SymbianOS supports Series 80 (Nokia Communicator 9300/9500) and UIQ (Sony-Ericsson P900, P910i) devices.
Desktop computer:
Microsoft Windows NT, Microsoft Windows 2000 or Microsoft Windows XP.