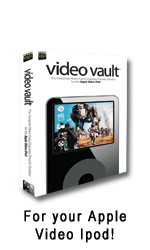 Video Vault iPod 3.5.0.0169 | Win32 | Size: 13,07 Mb
Video Vault can import several file formats, including AVI, Mpeg1, Mpeg2, Mpeg4, ASF, WMV, and DVR-MS, then export the files directly to your iPod. It also lets you overlay subtitles, and manage video file collections.
Features:
* Import DVDs, VCDs, SVCDs, Analog/Digital Camcorder Tapes
* Import AVI, Mpeg1, Mpeg2, Mpeg4, ASF, WMV, DVR-MS, TIVO, VOB and many more file types
* Export directly to the Video iPod
* Completely Organize your collection, including thumbnails and genres
* Overlay Subtitles right on top of the video!
* Complete Audio and Subtitle Language Selection!
* Directly connects to the iPod including ability to delete directly within Video Vault!