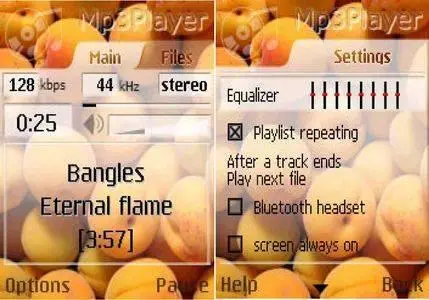 Viking Mp3 Player |v3.50 and 3.52 for S60 | v3.41 and 3.52 for S80
Mp3Player is an MPEG Layer 3 audio player for Symbian Series devices. Supports MPEG-1/2/2.5 files, from 8kHz to 44.1kHz, from 8kbps to 420kpbs.
Features:
- English, German, Spanish, Hungarian, Italian, Russian;
- plays MP3 files (MPEG-1, MPEG-2, MPEG-2.5, ABR, VBR);
- 44.1kHz, stereo playback (if phone supports it);
- playlist shows all MP3 files on phone, organized into folders;
- displays IDv1, bitrate, frequency and mono/stereo;
- volume control;
- displays time elapsed and the length of the track;
- easy-to-use, continuous fast-forward and rewind;
- associated to .MP3 files;
- send mp3 files or Mp3Player via Bluetooth, e-mail, infrared;
- full support for Bluetooth headsets.
- Equalizer for S60
Mp3 files may be transferred to the device using the following ways:
- Wireless Link: Requires a PC with an IrDa or Bluetooth port. It is strongly recommended to set the "Memory in use" to the MMC (Menu/Messaging/Options/Settings/Other)! After starting the connection on your phone, use the Wireless Link icon appearing on your PC desktop to send mp3 files to your phone.
- PCSuite: Requires a PC with an IrDa/Bluetooth/USB cable. Install and use the Nokia offical PCSuite software to transfer files to the MMC card (be sure to deactivate the automatic conversion of Mp3 files to WAV files on Nokia 3650!)
- MMC writer. Just copy them to the MMC, into any directory.
Fast forward and rewind
Mp3Player enables an easy-to-use, continuous fast forward and rewind. Just press the ABC or button, and navigate to the exact position using the joystick (left or right). The correct position may be easily determined using the elapsed time diplay and the progress bar.
Viking Mp3 Player for symbian cracked - BiNPDA ( v3.50 for S60 and v3.41 for S80)
http://rapidshare.com/files/2906268/acb5Vm.rarIf you like newest: Viking Mp3 Player Cracked _SyMPDA v3.52for S60 and S80 (for my N9300 v.3.41 work better then v3.52)
http://rapidshare.com/files/2980622/acb6Vm.rar
Previous:
Salling Clicker ver. 3.0.1
http://rapidshare.com/files/1555153/acb4SC.rar
ProfiMail v 2.60
http://rapidshare.de/files/37411775/acb3PM.rar
ProfiMail v 2.37
http://rapidshare.de/files/37408869/acb2PM.rar
SmartMovie Ver.3.25
http://rapidshare.de/files/37209014/acb1SMS60.rar
http://rapidshare.de/files/37209953/acb1SMS80.rar
http://rapidshare.de/files/37211225/acb1SMSUIQ.rar
(pass for all: AvaxHome.ru)