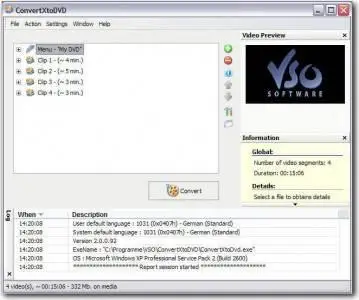 VSO ConvertXToDVD 2.1.8 Build 193 (PC) | 6.5 Mb. | Ftp2Share (RS.com & DF Mirrors).
En:
VSO ConvertXtoDVD is a tool to convert and burn your internet movie files to video DVD. It supports the most popular formats. This version supports subtitles, advanced options, included burn engine, fast and quality encoder, and automatic menu.
Fr:
VSO ConvertXToDVD ( anciennement DivXToDVD ) est un logiciel pour convertir et graver sur DVD vos videos PC. Il supporte les formats les plus courants. Inclu un moteur de gravure DVD haute fiabilité, offre des options avancées, un moteur d'encodage rapide et performant, et supporte les sous-titres et la création de menu DVD.