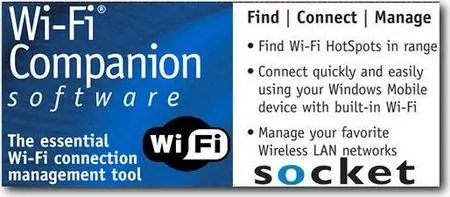 Socket Wi-Fi Companion ver. 2.10.4 | 1.9 MB | Windows OS
Socket Communications Wi-Fi Companion v2.10.4 - is an intuitive and graphical utility that displays your connection properties at a glance. There's even a Power Save utility, so you can adjust the power settings when using battery power.
Basic features:
Wi-Fi Companion provides users with a friendly, easy-to-use interface to manage WLAN connectivity. The main page icons provide single tap access to browse the web or check email, find WLAN's in range, install security certificates, view IP addresses or modify profiles.
Advanced Diagnostic Tools:
Wi-Fi Companion includes advanced diagnostic tools for the power user. Use Ping to verify network connectivity or as a site survey tool to find dead spots or the edge of WLAN range. The Trace Route tool traces a packet from the Pocket PC to an Internet host, showing each hop and how long it takes to reach the destination. This helps you locate delays if performance seems slow.
Key Features:
Wi-Fi Finder
- Find Wi-Fi hotspots in range.
Get Connected
- Connect to wireless networks securely with a single tap.
Power Save
- Manage power save settings to maximize battery life of Windows Mobile devices.
Security
- Works well with all WLAN security protocols supported by Windows Mobile (WPA, WPA-PSK, 802.1x, 40/128-bit WEP, EAP/TLS, OPEN).
Persistence Connectivity
- Connect to Wi-Fi networks quickly and stay connected to the right network.
Ping Utility
- Check network connectivity and survey your network range.
Trace Route Utility
- Check each hop in your connection to the Internet to see where delays occur.
OS Support:
Windows Mobile Devices with built-in Wi-Fi. (Windows Mobile 5.0, Pocket PC 2003).
New features supported in this release:
- Windows Mobile 2005 device with Landscape support.
- Square screen support for Windows Mobile devices.