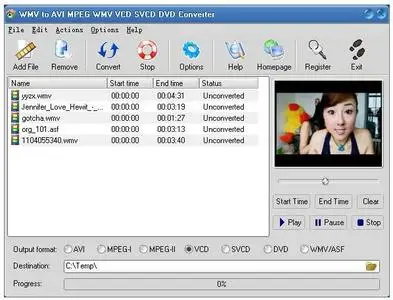 Wit.Cobber WMV to AVI MPEG VCD SVCD DVD Converter 4.2 (PC) | 3 Mb.
Ftp2Share (RS.com & DF Mirrors).
WMV to AVI MPEG WMV VCD SVCD DVD converter is a powerful, splendid, and simple to use application for WMV to AVI, WMV to MPEG, WMV to VCD, WMV to DVD, and WMV to SVCD video converting. The main features include: conversion of WMV files to AVI/MPEG/VCD/DVD /SVCD format;NTSC/PAL setting option; input/output preview;Skinable UI with 3 built-In skins; fill in/proportional options for cropping output video; high audio quality; support for no-sound WMV files; and optimized performance for Intel Pentium 3 and 4, and AMD Athlon processors.