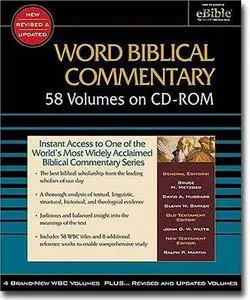 Word Biblical Commentary CD-ROM, 54 Volumes
Win | no pw | 390 MB
One of the most authoritative and exhaustive Biblical commentaries.
The above image belongs to the 58 volumes updated and
full version. On the difference between the two
editions, see the description below.
The culmination of more than fifteen years of research by a team of international scholars, Word Biblical Commentary (WBC) covers almost the entire Old and New Testaments, taking into account textual, linguistic, structural, historical, and theological distinctions. More than 50 contributors, all of whom rank among the leading Christian scholars of the English-speaking world, wrote authoritatively on the portions of Scripture in which they specialize. This collection also includes an enviable scholar's array of Bible translations, and Greek and Hebrew resources for in-depth research.
Electronic Books Included
* Volume 1: Genesis 1–15 — Gordon J. Wenham
* Volume 2: Genesis 16–50 — Gordon J. Wenham
* Volume 3: Exodus — John I. Durham
* Volume 4: Leviticus — John E. Hartley
* Volume 5: Numbers — Phillip J. Budd
* Volume 6a: Deuteronomy 1:1–21:9, Second Edition — Duane L. Christensen
* Volume 6b: Deuteronomy 21:10–34:12 — Duane L. Christensen
* Volume 7: Joshua — Trent C. Butler
* Volume 9: Ruth, Esther — Fredric W. Bush
* Volume 10: 1 Samuel — Ralph W. Klein
* Volume 11: 2 Samuel — A. A. Anderson
* Volume 12: 1 Kings (2nd Edition) — Simon J. DeVries
* Volume 13: 2 Kings — T. R. Hobbs
* Volume 14: 1 Chronicles — Roddy L. Braun
* Volume 15: 2 Chronicles — Raymond B. Dillard
* Volume 16: Ezra, Nehemiah — H. G. M. Willamson
* Volume 17: Job 1–20 — David J. A. Clines
* Volume 19: Psalms 1–50 — Peter C. Craigie
* Volume 20: Psalms 51–100 — Marvin E. Tate
* Volume 21: Psalms 101–150 (Revised) — Leslie C. Allen
* Volume 22: Proverbs — Rowland E. Murphy
* Volume 23a: Ecclesiastes — Roland Murphy
* Volume 23b: Song of Songs/Lamentations — Duane Garrett; Paul R. House
* Volume 24: Isaiah 1–33 — John D. W. Watts
* Volume 25: Isaiah 34–66 — John D. W. Watts
* Volume 26: Jeremiah 1–25 — Peter C. Craigie
* Volume 27: Jeremiah 26–52 — Gerald L. Keown
* Volume 28: Ezekiel 1–19 — Leslie C. Allen
* Volume 29: Ezekiel 20–48 — Leslie C. Allen
* Volume 30: Daniel — John E. Goldingay
* Volume 31: Hosea-Jonah — Douglas Stuart
* Volume 32: Micah-Malachi — Ralph L. Smith
* Volume 33a: Matthew 1–13 — Donald A. Hagner
* Volume 33b: Matthew 14–28 — Donald A. Hagner
* Volume 34a: Mark 1–8:26 — Robert A. Guelich
* Volume 34b: Mark 8:27–16:20 — Craig A. Evans
* Volume 35a: Luke 1:1–9:20 — Craig Evans
* Volume 35b: Luke 9:21–18:34 — John Nolland
* Volume 35c: Luke 18:35–24:53 — John Nolland
* Volume 36: John (Second Edition) — George R. Beasley-Murray
* Volume 38a: Romans 1–8 — James D. G. Dunn
* Volume 38b: Romans 9–16 — James D. G. Dunn
* Volume 40: 2 Corinthians — Ralph P. Martin
* Volume 41: Galatians — Richard N. Longenecker
* Volume 42: Ephesians — Andrew T. Lincoln
* Volume 43: Philippians (Revised) — Gerald F. Hawthorne
* Volume 44: Colossians, Philemon — Peter T. O'Brien
* Volume 45: 1 & 2 Thessalonians — F. F. Bruce
* Volume 46: Pastoral Epistles — William D. Mounce
* Volume 47a: Hebrews 1–8 — William L. Lane
* Volume 47b: Hebrews 9–13 — William L. Lane
* Volume 48: James — Ralph P. Martin
* Volume 49: 1 Peter — J. Ramsey Michaels
* Volume 50: Jude, 2 Peter — Richard J. Bauckham
* Volume 51: 1, 2, 3 John — Stephen S. Smalley
* Volume 52a: Revelation 1–5 — David E. Aune
* Volume 52b: Revelation 6–16 — David E. Aune
* Volume 52c: Revelation 17–22 — David E. Aune
This 54 volumes edition does not include the following volumes (only available in the 58 volumes complete edition - please, if you have it, upload it!):
Not previously available in electronic format
* Volume 23b: Song of Songs/Lamentations
Revised and Updated (Revised versions available for the first time in electronic format. The original editions from the WBC 54 are not included.)
* Volume 12: 1 Kings (2nd Edition)
* Volume 43: Philippians (Revised)
Previously available only on the WBC 6 Volume Upgrade
* Volume 6a: Deuteronomy 1:1-21:9 (Revised)
* Volume 6b: Deuteronomy 21:10-34:12
* Volume 21: Psalms 101-150 (Revised)
* Volume 34b: Mark 8:27-16:20
* Volume 36: John (2nd Edition)
* Volume 46: Pastoral Epistles
Download:
http://www.ftp2share.com/file/11868/WBC.html