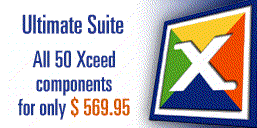 Xceed Ultimate Suite 2007.2 | 14.04.2007 20:46 | 70.10 MB
Xceed Ultimate Suite provides you with all 46 of Xceed's components and controls. Includes the highest quality grid, chart, UI, Zip, FTP and encryption components on the market. The only suite that offers both UI tools for application front-ends and data-handling libraries for application back-ends. Starts at only $569.95 US for 1 developer. Competitive team pricing available.
- Tremendous value. This suite provides over $5000 worth of the highest-quality components on the market, for only $569.95. When purchased with the optional Vanguard subscription (add $200) it also includes every new update and component added to the suite during the next year, plus a solid priority support package.
- All 46 quality components. Includes all Xceed User Interface, Data Manipulation and ASP.NET components. The Learn more page contains the complete list.
- Technically superior. All .NET controls written in managed code, all ActiveX/COM controls (except SmartUI ActiveX) written in ATL 3.0 and supporting both the STA and MTA multi-threaded apartment models. No external dependencies. Available .NET source code.
- Serious support, serious company. Our high-quality components are backed by an equally strong technical support team. Their quick response time with help and solutions earns them praise from our customers on a daily basis.
- Source code. Also available is the Blueprint Edition so you can also get the fully commented C# source code to all the .NET components.
rename the file in to Xceed Ultimate Suite 2007.rar and enjoy