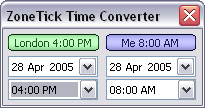 ZoneTick World Time Zone Clock ver. 3.3
Size 2.56 Mb | OS : All windows | Genre : Utilities
ZoneTick World Time Zone Clock displays the times for any amount of different time zones in place of the normal Windows clock or on desktop. It also allows you to synchronize your clocks with accurate online time-servers.
The program is very useful when you communicate with people in other parts of the globe: such as your school buddies or friends in other countries, your colleagues in remote offices or in the field, or the home-crowd while you are traveling. It also comes with a time calculator and a time table for easy time conversions between time zones.
ZoneTick uses graphical skins. This gives you the ability to customize your ZoneTick to fit any desktop style. On top of this, ZoneTick comes with a system of alarms. You can create any amount of alarms, which will either play a sound, display a message, launch an application, or open a web-page at the time of your choosing.
Rapidshare.com
Patch Only