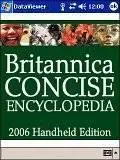 Britannica Concise Encyclopedia 2005 v1.0 for PPC Retail
RAR packed | 22 + 18mb | Retail edition | Town Compass, LLC
Requirements: Pocket PC 2002 or higher, 47.5 MB Available Memory, FREE Town Compass® DataViewer (included in pack)
The Britannica Concise Encyclopedia 2005 Handheld Edition, with nearly 25,000 entries that are ideally suited for PDAs, covers key topics that you encounter everyday: Arts, Business, Geography, History, Literature, Medicine, Philosophy, Politics, Science, Sports, and more. Watch and learn when topics come to life with more than 2,300 colorful maps and images that will improve your understanding of any subject. Perfect for your busy lifestyle, the Concise Encyclopedia conveniently delivers the information you need in just about any situation:
* When you're at the zoo and your son asks, "How much does a lion weigh?"
* You're discussing sports and need to know how many world records Mark Spitz set at the 1972 Olympics.
* You're reading a novel set in exotic locations and want to envision where the Isle of Man is located.
* When you're at a museum and wondering what styles influenced Art Deco.