TOEIC Mastery CD-ROM
It is no secret that many test takers prepare for a test using materials from as many sources as they can lay their hands on. In the case of the TOEIC test, TOEIC Mastery is one of the many options on the market that deserves serious consideration, especially for those who are new to the TOEIC test and want a quick start.
The interactive CD-ROM provides over 1,000 items that are presented either as practice exercises or as items in full length mock tests. Similar to other multimedia test preparation materials, the interactive CD presents test items in a format that mimics the real paper/pencil based test. In addition to the practice items, the CD also comes with a well-written "How-To" section that provides in audio format similar content as that in the Study Guide.
Publisher:
American Language Academy, Inc.
2001 Edition (Single user)
Approx. 70mb in 5 parts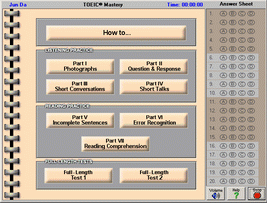 Replace original .exe with the one from TOEIC5. Enjoy!
http://rapidshare.de/files/25295394/TOEIC1.rar
http://rapidshare.de/files/25298350/TOEIC2.rar
http://rapidshare.de/files/25301241/TOEIC3.rar
http://rapidshare.de/files/25303595/TOEIC4.rar
http://rapidshare.de/files/25303932/TOEIC5.rar