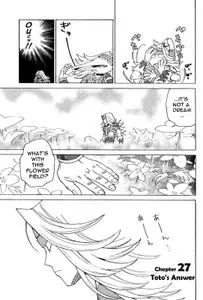 Seiken Densetsu: Legend of Mana 1-5
English | AMANO Shiro | CBR | 5 Volumes | 295.5 Mb
Genre: Action, Adventure, Comedy, Drama, Fantasy, Shounen
Description:
The Mana Tree, the giver of mana and life for the world of Fa'Diel, burned down nine centuries ago. A war erupted between faeries, humans, and others seeking the scarce power of mana that was left. When the war concluded, the drained Mana Tree slept and throughout the many lands of the world mana was stored in ancient artifacts.

Toto, and his pet Rabbi, have set out on an adventure to restore the world, and its mana, to its former self.

The Lands of Fa'Diel are populated with a large number of different creatures, including humans, faeries, demons, the jewel-hearted Jumi race, plant-like Sproutlings and Flowerlings, miner bears called Dudbears, and shadowy beings of the Underworld known as Shadoles. Fa'Diel is also the home of a host of anthropomorphic animals and objects, as well as monsters such as Rabites, Chobin Hoods, and Goblins.

Adaption of the PlayStation game of the same name.