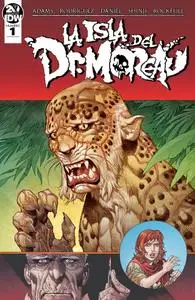 La Isla del Doctor Moreau (H.G. Wells' The Island of Dr. Moreau)
IDW, 2019 | CBR | Spanish | 2 tomos (Completo) | 77.2 MB Total
Autores: Gabriel Rodriguez, Ted Adams
Tan relevante hoy como cuando Wells la escribió en 1896, La Isla del Doctor Moreau aborda la pregunta que todos los científicos deberían hacerse: "Sólo porque podamos hacer algo, ¿significa que debemos hacerlo?"
Esta audaz adaptación nos da un nuevo protagonista en la forma de Ellen Prendick, cuyo punto de vista arroja una nueva luz sobre los horribles acontecimientos en la isla maldita, proporcionando una visión única de una de las historias favoritas del mundo.