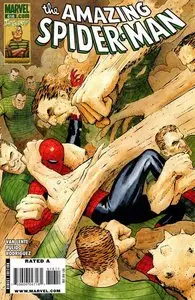 Amazing Spider-Man #616 (Ongoing)
Eng | RS & Hotfile | CBR | Marvel Comics | Dec 23 2009 | 24 Pages | 11.9 MB
+ Amazing Spider-Man Issues #1-615 Complete
I've taken my week or so of rest, recreation and celebration and so for this week's issue, may I refer you to IGN's Dan Philip's excellent (click)? I am doing so because there are so many comics to post and so little time until this Wednesday's new releases. Suffice it to say that I completely agree with the reviewer and his IGN Editor's Choice Award although I think it merits more than the "Great" 8.5 stars out of 10 rating it got. Fred Van Lente and Javier Pulido have made this series their own. An 8.9 at least.
The Sandman has vacillated between good and evil over the years, joining the Sinister Six and the Frightful Four...as well as becoming a reserve Avenger and a member of Silver Sable's Wild Pack. But as of this issue, and forever more, he will always be known as a villain -- one of the worst in the Wall-Crawler's Rogues Gallery -- and it's all Spider-Man's fault! Find out the shocking reason why in this issue as 'THE GAUNTLET' continues! --
Spider-Man first appeared in the comic book Amazing Fantasy #15 (Aug. 1962). The series was canceled with that issue, but response to the character was so positive that a solo title, The Amazing Spider-Man, was launched with a March 1963 cover-date. The character was created by writer-editor Stan Lee and artist and co-plotter Steve Ditko, and the pair produced 38 issues from 1963 to 1966. The Amazing Spider-Man title is the character's flagship series. Most of the major characters and villains of the Spider-Man saga have been introduced here, and it is where key events occur. The title was published continuously until 1998 when Marvel Comics relaunched it with a new issue #1 (Jan. 1999), but on Spider-Man's 40th anniversary, this new title reverted to using the numbering of the original series, beginning again with issue #500 (Dec. 2003).
Visit my
blog
often for regular and complete comic book series updates.