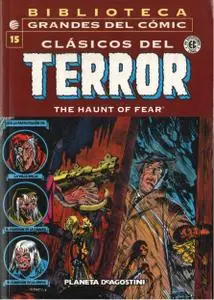 Biblioteca Grandes Del Clásicos del Terror de EC #15 (de 15) The Haunt of Fear
Ed. Planeta DeAgostini, 2004 | Spanish | CBZ | 162 páginas | 171 MB
Guión: Jack Oleck, Carl Wessler, Bill Gaines, Otto Binder; Dibujo: Jack Kamen, Graham Ingels
Como ya se ha mencionado en más de una ocasión, Gaines y Feldstein, editores de la edición original, incluyeron en el último número de sus colecciones un texto a modo de despedida. Allí recordaban, entre otras cosas, los tristes acontecimientos que llevaron a la editorial a tomar tan drástica decisión. Fieles a su tono sarcástico, los editores expresaban su certeza de que, tras el cierre de sus títulos, el crimen, la violencia juvenil, los robos, asesinatos y violaciones descenderían rápidamente. Evidentemente, no fue así. Con el presente volumen de la Biblioteca Grandes del Cómic: Clásicos del Terror de EC concluye la publicación de Haunt of Fear y se cumple un sueño largamente acariciado: ofrecer al público español una de las obras fundamentales del cómic norteamericano, de evidente valor histórico pero, sobre todo, de incalculable valor narrativo.