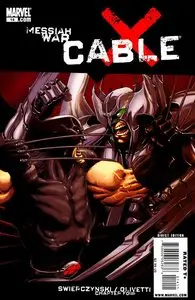 Cable Vol. 2 #14
Eng | RS & MU | CBR | Marvel Comics | 26 Pages | 13.1 MB
Part 4 of the seven-issue crossover with
X-Force
, "X-Force/Cable: Messiah War", which is the second story in a three-part storyline that began in X-Men: Messiah Complex.
The Story: "X-Force/Cable: Messiah War," Part 4. "Messiah War," the much-anticipated sequel to "Messiah CompleX," continues here! For the first time, Cable's been separated from the girl he's sworn to raise and protect — Hope, the so-called "Mutant Messiah" — and now she's in the hands of his greatest enemy! Meanwhile, X-Force, sent by Cyclops on a desperate rescue mission to the deep future, scrambles to find their way out of a trap that will kill them in matter of hours. And if that's not enough, an old — some might say ancient — enemy of the X-Men has reared his ugly head one last time… --
Visit my
blog
often for updates to, and more spin-offs and special issues in: the Complete Amazing Spider-Man (Issues 1-593 and counting) and other complete Spider-Man series; Grimm Fairy Tales (Issues 1-37 and counting); the complete Wolverine Origins (Issues 1-34 and counting); the complete Transformers official movies comics series; for the complete classic EC Comics series; and for other complete comics collector's series.