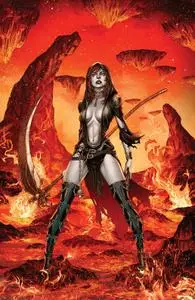 Grimm Tales of Terror Annual - Goddess of Death
Zenescope, 2021 | Spanish | CBR | 70 págs. | 109 MB
Autores: Patrick Shand, Eman Casallos, Ismael Canales, Juan Francisco Mota
Keres es la Diosa de la Muerte y ha castigado a muchos seres que lo merecían, enviándolos a pagar por sus pecados durante toda la eternidad en un infierno de ultratumba. Pero Keres no es la única a la que hay que temer. El mundo de abajo está lleno de aquellos que buscan tomar el poder, pero también escapar de la prisión que los retiene para entrar en nuestro mundo. Los 12 Reyes del Infierno están haciendo su jugada y solo Keres se interpone en el camino del caos que cambiaría el mundo. ¿Será capaz de detenerlos y evitar que el Infierno se alce?