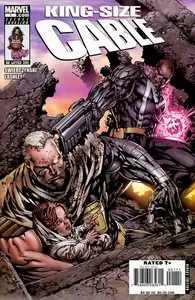 King-Size Cable Spectacular #1 (One-Shot)
Eng | RS, MU & Hotfile | CBR | Marvel Comics | 57 Pages | 57 MB
is a giant-sized, self-contained one-shot in the story of X-man Cable as he takes care of the Messiah child, the first mutant child born after M-Day and tries to avoid the single-minded pursuit of Lucas Bishop who is intent on killing the child in the belief it is the only way to prevent a mutant apocalypse in his time in the future. It has a cover date of November 2008 and chronicles the events that seem to take place between Issues #6 ("Homefront") and #7 ("Waiting for the End of the World - Chapter One: Last Place On Earth") of the ongoing Cable Vol. 2 series.
If you think it's tough being Cable, hopping through time with a bawling kid strapped to your chest, try stepping into Bishop's shoes for a while. Yeah, you're a tough, smart cop, and you're no stranger to tracking time-traveling perps, but Cable is a new kind of quarry. Not only is he an X-Man who's very familiar with the future, he's also a highly-trained soldier who knows how to cover his tracks and leave dozens of down-and-dirty traps in his wake. For you, the stakes have never been higher. Every second that baby is alive means you're one second closer to your greatest nightmare. One you swore you'd prevent… --
Visit my
blog
often for updates to, and more spin-offs and special issues in: the Complete Amazing Spider-Man (Issues 1-598 and counting) and other complete Spider-Man series; Grimm Fairy Tales (Issues 1-39 and counting); the complete Wolverine Origins (Issues 1-37 and counting); the complete Transformers official movies comics series; for the complete classic EC Comics series; and for other complete comics collector's series.