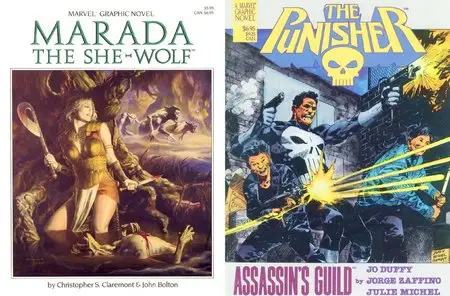 Marvel Graphic Novels #21-40 Compilation (Part 2)
Various Authors | Marvel Comics | 13 CBR's 7 CBZ's in 6 RAR's | Published 1985 - 1988 | 667.41 MB Total
+ Marvel Graphic Novel #1-20 Compilation (Part 1)
(MGN) is a series of graphic novel trade paperbacks published from 1982 to 1993 by Marvel Comics in an attempt to emulate European-style graphic novels. They are characterized by big-name authors and artists, complete standalone stories, 8.5 x 11 inch dimensions and an emphasis on superheroes. They are also numbered in sequence--despite the fact that none of the books were connected in any way but a blanket title--but for the first twenty issues only, through 1985. Marvel released many other stories in the same format that are considered unnumbered parts of the series according to the . Overstreet continued counting beyond the original "official" numbering, following a Marvel-published list of graphic novels. When the list stopped being published, Overstreet stopped trying to number the issues, halting at issue 38, although they list 29 more issues published from 1983 through 1991, and the list is known not to include every graphic novel from this period. This lack of numbering for the rest made it so difficult to come up with a definitive list in chronological ordinal sequence, until Bob Rozakis at comicsbulletin.com came up with one in 2003. The first story (the second Marvel graphic novel produced) is by Jim Starlin, released in April of 1982. The last numbered graphic novel, #20, is written by J. M. DeMatteis and drawn by Mark Badger. This compilation was pulled off a torrent uploaded by a certain forgerelli sometime in 2003 to whom I am indebted and grateful; evidently his collection is based on the list made by the aforementioned Bob Rozakis in his online column at comicsbulletin.com rather than on Overstreet's listing (see the Wikipedia article on Marvel Graphic Novels). The first part of this compilation consists of the first twenty numbered Marvel Graphic Novels. The second part will consist of the next twenty, and so on until the fourth and last part which consists of the last fifteen Marvel Graphic Novels to make up the 75 in the list of Bob Rozakis. Also included in the last part are five of the six graphic novels from the Marvel UK imprint, of which the only one missing is number three thereof, titled "Gengis Grimtoad." Save for this missing issue this compilation would have been complete. This second compilation in particular starts where the first left off, starting with MGN #21, through MGN #40, . collects material originally serialized in , Marvel's comics anthology in magazine format aimed at an older demographic (posted complete in Avaxhome by yours truly, links below). As above-mentioned, this compilation follows the chronology of Bob Rozakis and differs from that of Overstreet as to MGN #32-35; the list however sorts itself out eventually. I must mention here that there are also the (1987-1994; and different from ), whose output was dominated by Moebius but also featured creators ranging from Sergio Aragones at the beginning to James Robinson at the end. Note that a Punisher volume slipped into this imprint while all of his other appearances came under the Marvel Graphic Novel imprint. Also noteworthy is the release of the English translations of the Franco-Belgian in this imprint, of which foosaa has posted and wherein I have posted Hotfile mirrors, plus several others missing from his post, in my comment to said post, upon his express permission to post mirrors others than Rapidshare (link below). Several characters were featured in an issue of before receiving their own miniseries or ongoing series. The most successful of these was the which ran for 100 issues. Other series which were spun off from a Marvel Graphic Novel are , and the . In addition, had a miniseries published by Malibu Comics and was a short lived title published by Lodestone Comics. It was partly because of this series that DC was prompted to release its own "DC Graphic Novels." Let me point out that the chronology as based on this compilation is wholly the work of torrent uploader forgerelli, as mentioned based on Bob Rozakis' list. Still, as Mr. Rozakis himself states, this list--and hence the chronology of this compilation--cannot be considered definitive (although to me it is.) Lastly, the release of the first 20 numbered Marvel Graphic Novels were events; later, the overall integrity and quality of the series became diminished with the inclusion of material better suited to the standard newsprint Annuals Marvel published at the time. Nevertheless, a good number of the early graphic novels, including the latter ones, were well-written and had great artwork, and some are real gems. If you'd care to take a moment poring over the 20 graphic novels in this compilation as listed below, you'd recognize some classics. This is truly a collection the serious comics fan should not be without.
There's a tendency to dismiss the comic book industry as being hopelessly juvenile with an infantile addiction to graphic violence and adolescent sexual imagery. Unfortunately, in some cases, this is a correct assessment. But then there are the other, too often ignored comics that transcend such self-imposed limitations. The Death of Captain Marvel is one such example. Originally published in 1982, this was the first of Marvel's graphic novels and it has been said, quite correctly, that it revolutionized an industry that had started to grow fatally stagnant. Just as the title says, Jim Starlin's wonderfully written and illustrated novel details the last days of Marvel mainstay Capt. Marr-Vell (an alien better known as Capt. Marvel in one of those delightful comic book coincidences). After years of battling various cosmic foes of all size and evil, Marvel finds himself felled by that most human and realistic of diseases. He had cancer and a great deal of this graphic novel examines how his super powered friends react to the death of one of their own from a disease that could have afflicted any of them. Though Starlin allows for a bit of the expected super heroic melodrama, overall the Death of Captain Marvel is distinguished by a quiet, contemplative mood as Marvel deals with his impending death. In the end, its rather touching and truly thought provoking. The term graphic novel is one that gets mocked. It sometimes seems to reek of fanboy pretension. The Death of Captain Marvel reminds us of what a graphic novel was originally supposed to be. A comic book, yes, but a comic book for adults -- a comic book that eschewed the melodrama and absurdities of a monthly title and instead used the format to say something truly special. The Death of Captain Marvel more than lives up to that promise. --
This second compilation contains:
21 Marada the She-Wolf
22 Spider-Man: Hooky
23 Dr. Strange: Into Shamballa
24 Daredevil: Love & War
25 The Alien Legion: A Grey Day to Die
26 Dracula: A Symphony In Moonlight and Nightmares
27 Emperor Doom
28 Conan the Reaver
29 Hulk & Thing: The Big Change
30 A Sailor's Story
31 Wolfpack
32 Thor: Whom the Gods Would Destroy
33 Iron Man: Crash
34 The Shadow: Hitler's Astrologer
35 Cloak & Dagger: Predator and Prey
36 Willow (Official Movie Adaptation)
37 Hercules, Prince of Power: Full Circle
38 Silver Surfer: Judgment Day
39 The Inhumans
40 The Punisher: Assassins' Guild
Visit my
blog
often for regular and complete comic book series updates.