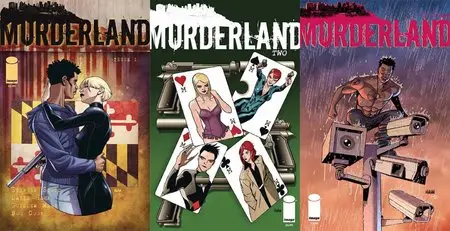 Murderland #1-3 (Update)
3 CBZ's in RAR (Minutemen-DTs) | Image | Release Dates Aug 04 - Nov 24 2010 | 60.67 MB Total
The new series from Image about a lady assassin who dresses up in disguise to kill her targets that set off a furious debate on sequential detail and clarity versus non-linearity and deliberate ambiguity in comic book storylines among comic book forums and blogs. And how about the strangely angular artwork? Suffice it to say that the first three issues may not be enough to put together all the disjointed parts and pieces that keep cropping up everywhere. But you know what? For me it's a welcome break as I've had quite enough of that more-of-the-same literal drivel that Marvel mostly dishes out week after week. All high quality scans by the one and only Minutemen-DTs. Not suitable for minors.
"SET THE METHOD DOWN," Part One. Artist DAVID HAHN joins newcomer STEPHEN SCOTT to tell a story of doomed romance, bloodshed and the outer limits of human potential, all unfolding on the "complicated" streets of Baltimore, Maryland. The Arabber is a reformed killer bent on bringing peace to his hometown. Method is his lover and partner in crime, but she may not be long for The Arabber's crusade. The first of many genre-bending stories in the MURDERLAND universe. -- "SET THE METHOD DOWN," Part Two. The authorities draw a step closer as the Arabber comes face to face with his old life as a gangland enforcer. Meanwhile, Method officially severs her ties to Rybinski Crisis Solutions, prompting a violent confrontation and forcing Rybinski to bring in a unique heavy-hitter from the Afghan poppy fields. -- "SET THE METHOD DOWN," Part Three. The Arabber picks up a gun to settle an old score only to wind up with prostitute on his face. Meanwhile, federal agents match wits with his grandmother. A backup short answers the question: "Why is it harder to protect a store than to rob it?" And psychotic roller girls! --
Visit my
blog
often for regular and complete comic book series updates.